With our famous warm, fresh Cinnamon Donuts, delicious Hot Dogs, Chilled Drinks, Royal Bean coffee and extensive Donut range, it's no wonder Donut King has become Australia's favourite fun treat destination. Come in and say hello. Our happy customers agree that we Make it Fun at Donut King.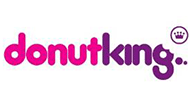 Centre Trading Hours
MONDAY - WEDNESDAY
10:00AM - 5:30PM
THURSDAY
10:00AM - 7:30PM
FRIDAY
10:00AM - 5:30PM
SATURDAY
9:00AM - 6:00PM
SUNDAY
10:00AM - 6:00PM
*Please note: Centre trading hours differ on public holidays. Please check with individual stores as trading hours may vary.