Peter Jackson are leaders in men's tailored fashion, developing high quality menswear for the modern man. Peter Jackson are renowned for their Australian wool suits, shirts and outerwear.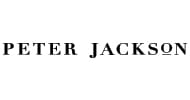 Centre Trading Hours
MONDAY - WEDNESDAY
10:00AM - 5:30PM
THURSDAY
10:00AM - 7:30PM
FRIDAY
10:00AM - 5:30PM
SATURDAY
9:00AM - 6:00PM
SUNDAY
10:00AM - 6:00PM
*Please note that the centre trading hours differ on Public Holidays. Please check with stores as individual store trading hours may vary.