Sophisticated and elegant swimwear is what you get when you choose a Baku creation. The sleek lines of these suits, the perfect fit and exclusive designs make you stand out in the crowd. The designers incorporate innovative design ideas with this fashion line so that you can have a perfectly comfortable swimsuit that is stylish and stunningly trendy too. For that classy look that you have always yearned for get your Baku swimsuit today.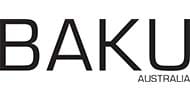 Centre Trading Hours
MONDAY - WEDNESDAY
10:00AM - 5:30PM
THURSDAY
10:00AM - 7:30PM
FRIDAY
10:00AM - 5:30PM
SATURDAY
9:00AM - 6:00PM
SUNDAY
10:00AM - 6:00PM
Good Friday
CLOSED
Easter Saturday
*10:00AM - 6:00PM
Easter Sunday
CLOSED
Easter Monday
*10:00AM - 6:00PM
Anzac Day
*1:00PM - 6:00PM
*Please note: Centre trading hours differ on public holidays. Please check with individual stores as trading hours may vary.