Hair & Beauty
Mystical Lash N' Brow
Mystical Lash N' Brow have your beauty maintenance needs covered including Eyebrow Threading, Lash Extensions, Eyebrow Tinting, all in the one spot. Threading is traditional Indian style eyebrow shaping technique that uses a cotton string to create a more defined and precise shape. Threading is an alternative to waxing and can also be used to get rid of unwanted hair from other parts of the face including all your fine little baby hairs. The team also specialise in lash extensions with individual silk lashes to enhance the length, fullness and thickness of natural eyelashes. Extensions are made from several materials including silk and mink, synthetic or human hair. looks to suit individual faces. Visit the kiosk on Level 2 near Laura Ashley.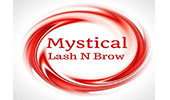 Centre Trading Hours
MONDAY - WEDNESDAY
10:00AM - 5:30PM
THURSDAY
10:00AM - 7:30PM
FRIDAY
10:00AM - 5:30PM
SATURDAY
9:00AM - 6:00PM
SUNDAY
10:00AM - 6:00PM
*Please check with individual stores as trading hours may vary.