Food & Drink
The Smelly Cheesecake Cafe
Visit The Smelly Cheesecake Cafe and enjoy cake, macarons, coffee, drinks, and gelato!

At The Smelly Cheesecake Cafe, we know our cake is more than just a delicious treat. It represents a special event or a memory cherished by you or with your loved ones. Whether you're after a cake for a birthday, anniversary, achievements or just for an ordinary day, we've got something you're sure to love and enjoy.

Home to a range of delicious cheesecakes as well as plenty of options for the non-cheesecake lover. Our cakes have been crafted with passion and deliver a rich hint of cheese in every single bite.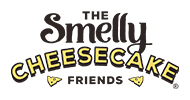 Centre Trading Hours
MONDAY - WEDNESDAY
10:00AM - 5:30PM
THURSDAY
10:00AM - 7:30PM
FRIDAY
10:00AM - 5:30PM
SATURDAY
9:00AM - 6:00PM
SUNDAY
10:00AM - 6:00PM
*Please check with individual stores as trading hours may vary.