Chia Seed, Kale, Roasted Tomato and Goat's Cheese Tart

Recipes by Will and Steve - Winners of MKR 2015

Prep and cook time: 2 hours | Serves 6


Ingredients:
25g butter, for greasing

FILLING:
12 baby amoroso truss tomatoes, approximately 400g
5 garlic cloves
1 tablespoon olive oil
sea salt flakes and freshly ground black pepper
100g goat's chèvre
1 handful red kale, roughly chopped
1⁄4 bunch of basil, leaves picked
7 large eggs, lightly beaten and seasoned

PASTRY:
250g spelt flour
125g unsalted butter, chilled and cubed
2 tablespoons chia seeds
2 teaspoons salt
1 egg, lightly beaten
1–2 tablespoons chilled water
Basil, to garnish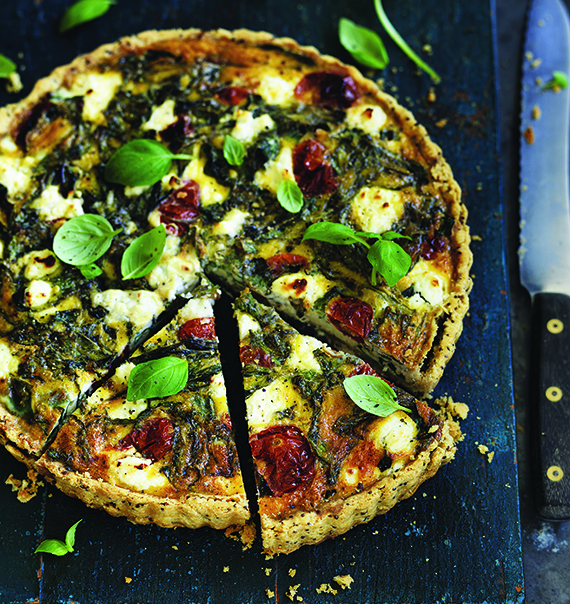 Method:
1. Preheat the oven to 140°C. Grease a 25cm round loose-based tart tin with the butter.
2. To start on the filling, place the tomatoes, with the vine still attached, and the garlic in an ovenproof dish, drizzle with the oil and season with salt and pepper. Roast for 45 minutes until caramelised and slightly dried. Allow to cool.
3. While the tomatoes are roasting, start on the pastry. Blitz the flour and chilled butter in a food processor until the mixture resembles fine breadcrumbs. Add the chia seeds, 2 teaspoons of salt and the egg and blitz again until the pastry just comes together. If the pastry is too dry and crumbly, add a tablespoon of chilled water and blitz again until the mixture combines. Use a second tablespoon of chilled water if required.
4. Place the pastry between two sheets of cling film and press into a disc shape. Refrigerate for 30 minutes.
5. Once the tomatoes have been removed from the oven, increase the oven temperature to 180°C. Remove the pastry from the fridge and roll out, between the sheets of baking paper, to form a 35cm round, approximately 5mm thick. Peel off the cling film and carefully place the pastry over the prepared tart tin, making sure to press the pastry into the bottom corner and up the side. Cut off any overhanging pastry and prick the bottom of the tart with a fork. Scrunch up some baking paper and place on top of the tart case. Fill with baking beads or uncooked rice and blind-bake for 12 minutes until light golden brown. Remove the beads/rice/baking paper.
6. Remove the vine and arrange the cooled tomatoes, reserving the jus that has collected in the bottom of the baking dish, 40g of the goat's chèvre, the kale and basil in the tart case and season with salt and pepper. Top with the seasoned eggs and crumble another 40g of goat's chèvre on top. Bake for 15 minutes, then reduce the oven temperature to 160°C and bake for a further 10 minutes until the filling is set and the top of the tart is golden.
7. Allow the tart to cool a little before removing it from the tin. Cut into 6 slices, drizzle with the reserved tomato jus and garnish with basil.


Recipe from 'Will and Steve | Home Cook, Aspiring Chef'

www.willandsteve.com.au
Photo Credit: William Meppem
INSPIRATION
Check this out