Five-Hour Leg of Lamb

Recipes by Will and Steve - Winners of MKR 2015
Prep and Cook Time: 5 1⁄2 Hours | Serves 6
Ingredients:
2.2kg leg of lamb
Sea salt flakes
2 tablespoons olive oil
1 carrot, diced
1 onion, diced
3 garlic cloves, roughly chopped
5 rosemary sprigs
2 bay leaves (fresh if available, dried if not)
2 cups red wine
2 cups veal stock
2 x 400g tins chopped tomatoes
Freshly ground black pepper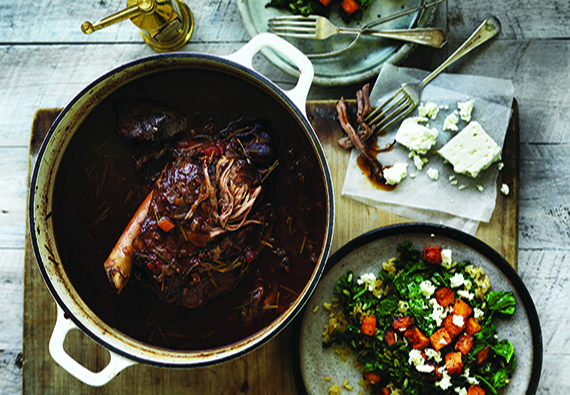 Method:
1. Preheat your oven to 110°C.
2. Remove the lamb from the fridge, season all over with salt and allow to come up to room temperature.
3. Heat the olive oil in a large flameproof ovenproof dish (with a lid) on high heat, add the lamb and brown on all sides. Remove from the dish and set aside.
4. Add the carrot and onion to the dish and sauté for 3 minutes. Stir in the garlic, rosemary and bay leaves and cook for 2 minutes until fragrant. Deglaze with the red wine and flambé. To flambé, tip the pan carefully away from you but towards an open flame, allow the vapours to ignite and keep the pan at arm's length. Allow the alcohol to burn off naturally before you continue cooking. Pour in the veal stock and tomatoes and stir to combine. Return the lamb to the dish, spoon some of the sauce over the top and cover with the lid. Roast for 5 hours until the lamb is falling off the bone. Remove from the oven, carefully transfer the meat to a warm plate and cover with foil. Allow to rest for 30 minutes.
5. For the gravy, sieve the liquid and vegetables remaining in the dish into a small serving dish.
6. Before presenting to the table, remove the bones from the lamb. Serve as a shared plate, allowing guests to take spoonfuls of the butter-like lamb themselves, with the gravy on the side.
7. Serve with butternut squash, red kale and Persian fetta.


Recipe from 'Will and Steve | Home Cook, Aspiring Chef'

www.willandsteve.com.au
Photo Credit: William Meppem
INSPIRATION
Check this out