Lamb, Sage and Prosciutto with Caramelised Asparagus

Recipes by Will and Steve - Winners of MKR 2015

Prep and cook time: 10 minutes | Serves: 4


Ingredients:

3 bunches of asparagus
Olive oil, for drizzling
Juice of 1 orange
Sea salt flakes and freshly ground black pepper
12 lamb cutlets, French trimmed
12 sage leaves
12 thin slices of parmesan cheese
12 thin slices of prosciutto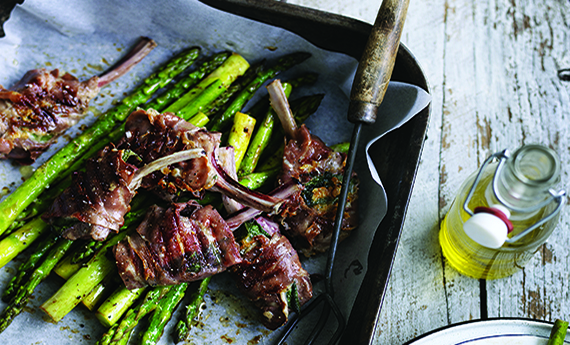 Method:

This is as simple as it gets. It's quick too but doesn't fall short on flavour. This is a dream dish for those who want to impress but don't want to spend hours slaving away in the kitchen or using tweezers to perfect the presentation!
1. Preheat the grill on your barbecue or chargrill pan to medium.
2. Place the asparagus in a shallow dish, drizzle on the oil, add the orange juice and season with salt and pepper.
3. Season both sides of the cutlets with salt and pepper and set them on a chopping board. Place a sage leaf and a slice of parmesan on each cutlet and then wrap in a slice of prosciutto.
4. Place the prosciutto-wrapped lamb cutlets on the barbecue or chargrill pan and cook for 3-4 minutes, before turning over and cooking for another 1-2 minutes, depending on the thickness of the cutlet.
5. While the lamb is cooking, place the asparagus on the barbecue or chargrill pan and cook, turning every minute or so to get even caramelisation, for 4 minutes until charred and tender.
6. Divide the asparagus between four shallow serving bowls and top with three cutlets per person. Finish with a drizzle of olive oil.


Recipe from 'Will and Steve | Home Cook, Aspiring Chef'

www.willandsteve.com.au
Photo Credit: William Meppem
INSPIRATION
Check this out