Pork, Sweet Fennel and Sage Sausage Rolls

Recipes by Will and Steve - Winners of MKR 2015

Prep and cook time: 1 hour | Makes 12 small sausage rolls


Ingredients:
50g butter
2 fennel bulbs, finely chopped
500g pork mince (meat to fat ratio 70:30)
1 egg yolk
1 French shallot, finely chopped
1 tablespoon fennel seeds, crushed in a mortar and pestle
1 bunch of sage, leaves picked and finely chopped
1 teaspoon dijon mustard
Sea salt flakes
Freshly ground black pepper
3 sheets of frozen puff pastry, thawed
1 egg, beaten, for egg wash
Tomato ketchup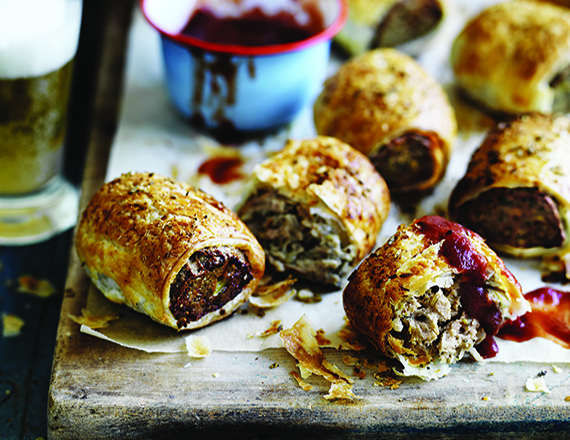 Method:
1. Preheat your oven to 160°C.
2. Melt the butter in a large saucepan on low heat, add the fennel and cook until softened and sweet, around 40 minutes. Remove from the pan and allow to cool slightly.
3. Mix the mince, fennel, egg yolk, shallot, 2 teaspoons of crushed fennel seeds, the sage and dijon in a large bowl and season heavily with salt and pepper. Split the mixture evenly into three portions.
4. Place a piece of puff pastry on your work surface. At one edge, place one-third of the meat mixture and shape into a sausage. Roll the pastry over the meat mixture until the whole sausage is covered. Using a pastry brush, brush the overlapping pastry edges with a little egg wash. Trim any excess pastry and seal the the overlapping edges with the prongs of a fork. Repeat this process with the remaining pastry and pork mince, so that you have three long sausage rolls.
5. Cut each roll into four smaller rolls, brush the tops with the egg wash, sprinkle on the remaining crushed fennel seeds and season with salt and pepper. Bake for 20–25 minutes until golden. Serve warm with Ketchup.


Recipe from 'Will and Steve | Home Cook, Aspiring Chef'

www.willandsteve.com.au
Photo Credit: William Meppem
INSPIRATION
Check this out