Seared Sirloin, Asparagus, Pink Grapefruit and Rosemary

Recipes by Will and Steve - Winners of MKR 2015

Prep and cook time: 20 minutes | Serves 2

Ingredients:

2 x 250g 3cm thick sirloin steaks
Sea salt flakes
120ml olive oil
2 garlic cloves, peeled
4 rosemary sprigs
Zest and juice of 1⁄2 pink grapefruit
8 asparagus spears
Juice of 1⁄2 lemon
Freshly ground black pepper
2 pink grapefruits, segmented
50g parmesan cheese, shaved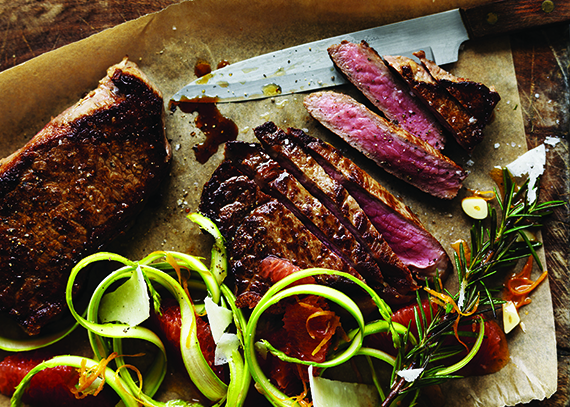 Method:

1. Remove the steaks from the fridge and bring to room temperature before cooking.
2. Season both sides of the steaks with salt.
3. Drizzle a little oil into a frying pan and place over high heat until smoking. Cook the steaks for 4 minutes, turning every 20 seconds, remove from the pan and rest on a wire rack with a plate underneath to catch any juices.
4. Take the pan off the heat, add the remaining olive oil, the garlic, rosemary and grapefruit zest and set aside for 5 minutes to allow the flavours to infuse. Add the grapefruit juice and stir.
5. Peel the asparagus lengthways using a Y-shape vegetable peeler, so you have nice long thin strips. Place in a bowl and season with the lemon juice and salt.
6. Add the meat juices that have collected on the plate to the oil infusion in the pan, then cut the steaks lengthways into 1cm-wide strips.
7. Arrange the strips of beef on each serving plate and season with salt and pepper. Curl some of the asparagus strips over the meat and place the grapefruit segments randomly in and around the asparagus. Add some of the mustard leaves and parmesan shavings and finish with a few teaspoons of the rosemary-infused oil.




Recipe from 'Will and Steve | Home Cook, Aspiring Chef'

www.willandsteve.com.au
Photo Credit: William Meppem
INSPIRATION
Check this out