Vanilla Cheesecake, Sour Cherry Sorbet and Macadamia Brittle

Recipes by Will and Steve - Winners of MKR 2015

Prep and cook time: 5 hours including freezing time
Makes 8 small cheesecakes


Ingredients:

1x500g bag of fresh cherries, pitted
Sorbet:
1 x 700g jar pitted Morello cherries
Biscuit Base:
200g digestive biscuits, crushed into crumbs
100g unsalted butter, melted
Cheesecake:
4 gelatine leaves
1 cup cream
250g mascarpone
2 vanilla pods, split and seeds scraped
¼ cup caster sugar
1 cup plain yoghurt
Brittle:
200g macadamia nuts
1 cup sugar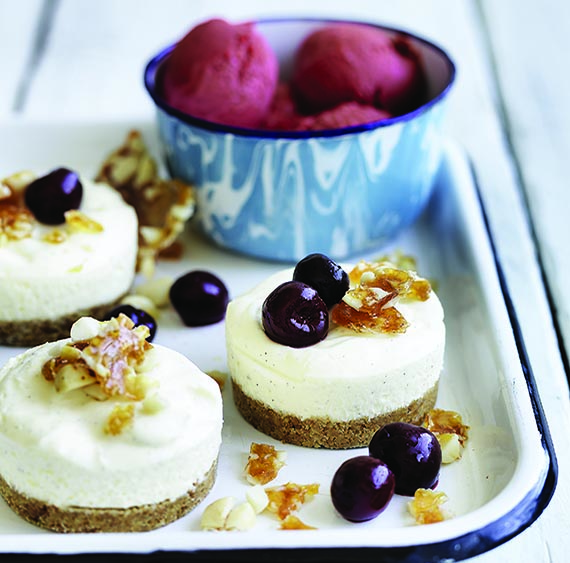 Method:

1. To make the sorbet, pour the morello cherries and their juice into a blender and blitz on high for 2 minutes. Pour the pureed cherries into your ice-cream machine and churn, following the manufacturer's instructions. Place in a freezer container, cover and transfer to the freezer for 4 hours.
2. To make the biscuit base, place the crushed digestives in a large bowl and stir in the melted butter. Spoon 2 tablespoons of the mix into eight 7cm greased ramekins or moulds and use a teaspoon to push the mixture evenly onto the base.
3. To make the cheesecake, soak the gelatine leaves in cold water for 10 minutes. Squeeze the water from the gelatine leaves and add to a small saucepan with a few spoonfuls of cream. Very gently heat until the gelatine dissolves. Set aside. Whisk the mascarpone, vanilla seeds and sugar in a bowl. Add the gelatine mixture and the yoghurt and whisk. In a separate bowl, whisk the remaining cream until soft peaks form. Fold the cream into the mascarpone mixture, then transfer the entire mixture to a large jug.
4. Pour the cheesecake, with the aid of a spoon, evenly over the biscuit base in the moulds. Refrigerate for 3 hours, or until the sorbet is ready.
5. Preheat the oven to 180°C.
6. To make the brittle, toast the macadamias in the oven for 10 minutes until golden. Remove and allow to cool. Chop the nuts into fairly small pieces. Line small baking tray with baking paper and scatter the nuts evenly on the tray. In a large frying pan, melt the sugar and cook, without stirring, until it begins to turn amber. Pour the caramel evenly over the nuts and leave at room temperature for the caramel to harden.
7. To serve, turn the cheesecakes out from the moulds, top with fresh cherries, some of the macadamia brittle and serve with balls of the cherry sorbet.


Recipe from 'Will and Steve | Home Cook, Aspiring Chef'

www.willandsteve.com.au
Photo Credit: William Meppem
INSPIRATION
Check this out