Homewares & Gifts
Smiles Start Here
Christmas at T2
Unwrap a ripple effect of happiness with this range of festive teas, teawares and gift packs.
Feature Tins:
Trifle Delicious - A luxuriously decadent concoction, layering notes of fresh fruit jelly with sweet sponge cake, the whole thing topped off with rich vanilla custard and lashings of cream. The result is a winner that'll appease any diehard dessert lover!
Christmas Breakfast (Loose leaf & teabags) - Tis' the season to embrace this delightfully classic gingerbread brew. Filled with familiar festive flavours, this merry drop is a starry-eyed constellation of robust, sweet and velvety smooth notes. The perfect Christmas morning cup!
Eggnog - That sweet, luscious concoction at the centre of so many Christmas traditions. A delicious mess of creamy, custard-like flavours, this yuletide treat is loved for its indulgent dessert flavours
Feature Boxes:
Bread & Butter Pudding - Tastes as good as Grandma's own recipe. Slurp up this velvety, melt-in-your-mouth pudding as wafts of buttery cinnamon mingle with delectable caramel chunks and custard notes. Just like the real deal, it's impossible to say no to seconds.
Mulled Wine Magic - A fruity, zesty and enchanting winter favourite that encapsulates all the aromatic flavours of traditional mulled wine. Each sip is a fragrant journey, with a touch of spice to warm you up from the inside out.
Pineapple Dreamboat - This summer drop explodes on the palate with the ripest, sweetest, juiciest pineapple flavours. With nothin' but crisp sweet apples and ripe pineapple in the mix, brew up enough to share and be the most popular at the party!
Advent Calendars:
24 Reasons to Smile - Cups at the ready, tea lovers! The countdown is on and each of these teas is here to help you sip all the way to Christmas Day! Twenty-four loose-leaf teas and tisanes await your discovery – ready to dance on your palate, sing to your senses and leave you with a little wisdom to ponder.
Gift Packs:
Random Acts of Tea - A variety pack of twenty flavour filled T2 teas? Yes, please! Explore familiar favourites and exotic new characters – we've made sure you can sip the rainbow with everything from black to green, fruits and herbals inside!
Forever Favourites - A trinity of iconic teas every black tea lover needs. Fill up on floral notes and a hint of bergamot from French Earl Grey. Let Melbourne Breakfast's vanilla scents waft through your mornings and dive into spiced delights with a cup of Christmas Breakfast
Fill Your Cup - Tea lover, this one's for you. Take a moment to pause, brew up a cup and enjoy the simple pleasures: like a hand-crafted stoneware tumbler painted in the happiest of colours, and your choice of fifteen different teas.
Peace Out - Stock your wellness pantry with three of our most Zen-inducing herbals. Sleep Tight's there to tuck you in, Tummy Tea will soothe what ails you, and The Quiet Mind will, well, quiet your mind. Mmmm, dreamy.
A Year in Tea - The tea pack your future self will thank you for! Over the next year, dive in and open up twelve T2 teas in iconic mini tins – each month is an opportunity to explore, experiment and be delighted by a new brew, all wrapped up in teabags to give you more time to enjoy what matters most!
Cheers to You - Sip and reflect with two forever-loved T2 teas from a limited edition mug so generous it'll make your tea moments overflow! Your new favourite teacup is made from fine bone china and comes dressed in our latest exclusive print. We've popped in a little infuser to complete the kit, so you're all set for top sipping.
You, Me & Tea - A thoughtfully designed teaset born to be enjoyed with someone special and plenty of great conversation. Make memories over classic English Breakfast and Earl Grey in your delicate yet durable teapot with matching mugs.
Festive Five - A festive spread of our most delicious Christmas flavours! Tuck into all five of our Christmas-exclusive brews – the sips of the season you won't find any other time of year! Eggnog, mince pies, meringue, mulled wine and festive flavours abound, for a tinsel-toned teatime every sipper will love!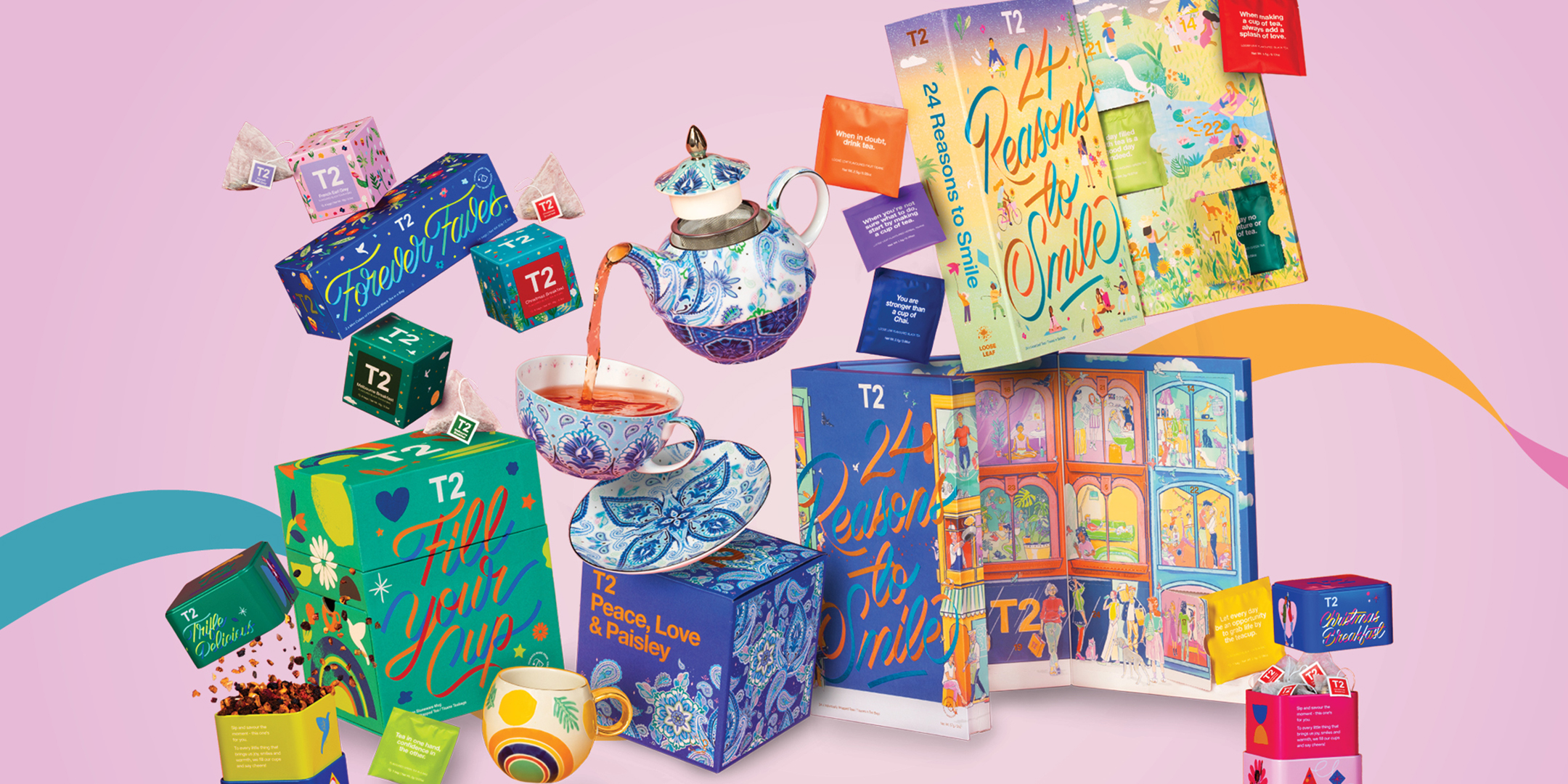 INSPIRATION
Check this out