A global leader in the performance and lifestyle footwear industry, Skechers designs, develops and markets more than 3,000 styles for men, women and children. Skechers' success stems from its employees, high-quality, varied product offering, diversified distribution channels, and targeted multi-channel marketing. We offer two distinct footwear categories: a lifestyle division and performance footwear for Men, Women and Children. There are more than 70 Company-owned Skechers retail stores across Australia and New Zealand, and we sell product online at skechers.com.au. Beyond Australia, Skechers product is available in more than 160 countries and territories through an international network of subsidiaries around the world.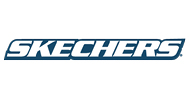 Centre Trading Hours
FRIDAY
10:00AM - 5:30PM
Monday 16 - Wednesday 18 December
10:00AM - 7:00PM
Thursday 19 December
10:00AM - 9:00PM
Friday 20 December
10:00AM - 7:00PM
Saturday 21 December
9:00AM - 7:00PM
Sunday 22 December
9:00AM - 6:00PM
Monday 23 December
10:00AM - 6:00PM
Tuesday 24 December
10:00AM - 6:00PM
Christmas Day
CLOSED
Boxing Day
8:00AM - 7:00PM
*Please note: Centre trading hours differ on public holidays. Please check with individual stores as trading hours may vary.